When I made the wrap pants shown below last fall, the only top I had to wear with them was a navy wool shell & cardigan. Much too itchy for summer, so this spring I looked for a more appropriate top. I wanted something sleeveless, and to use a piece of navy linen/rayon blend fabric in my stash.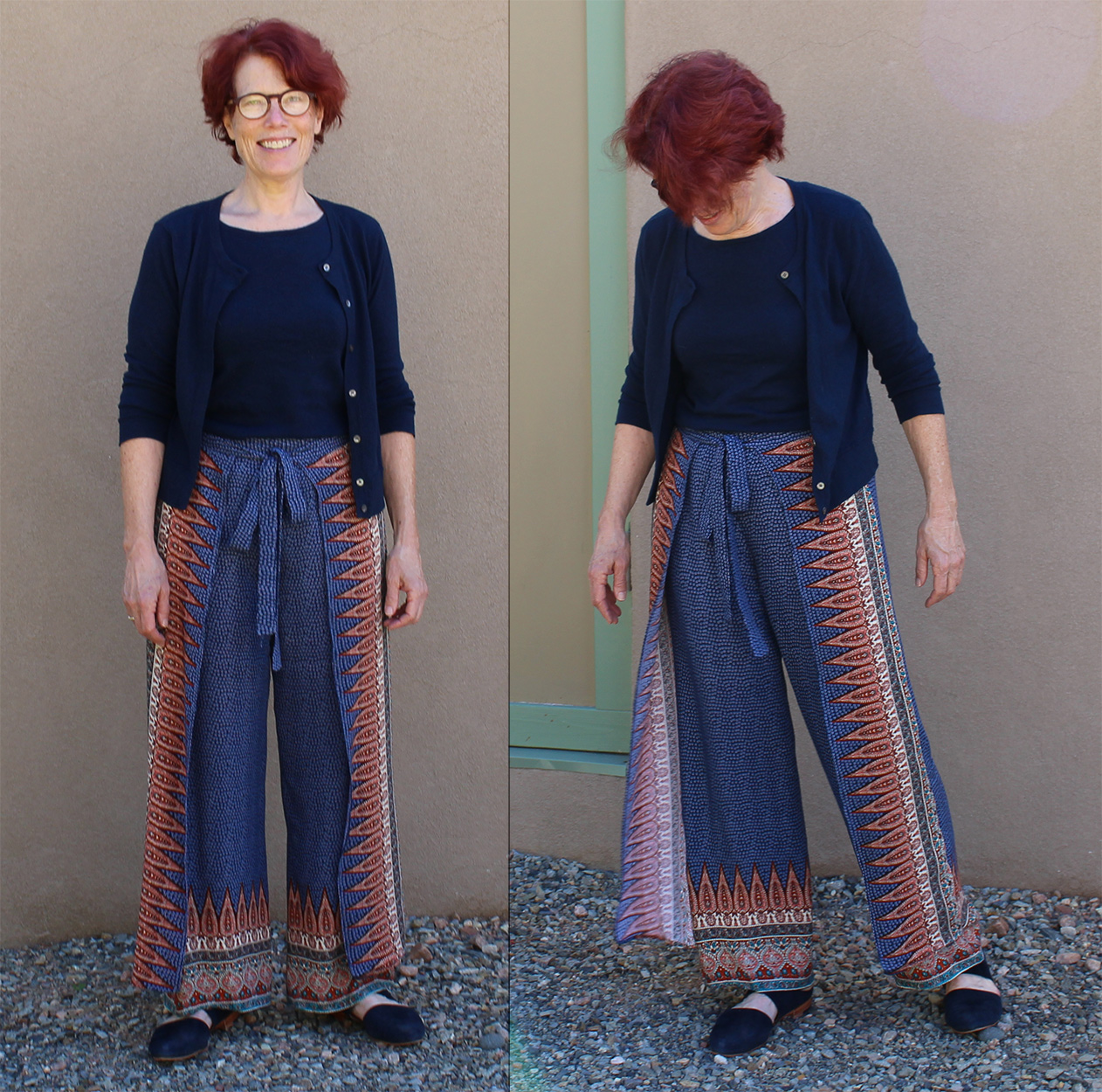 I looked through the patterns I already own first and was immediately drawn to the neckline on New Look 6459, view B. I had bought the pattern for the pants, but now the top looked like a good candidate.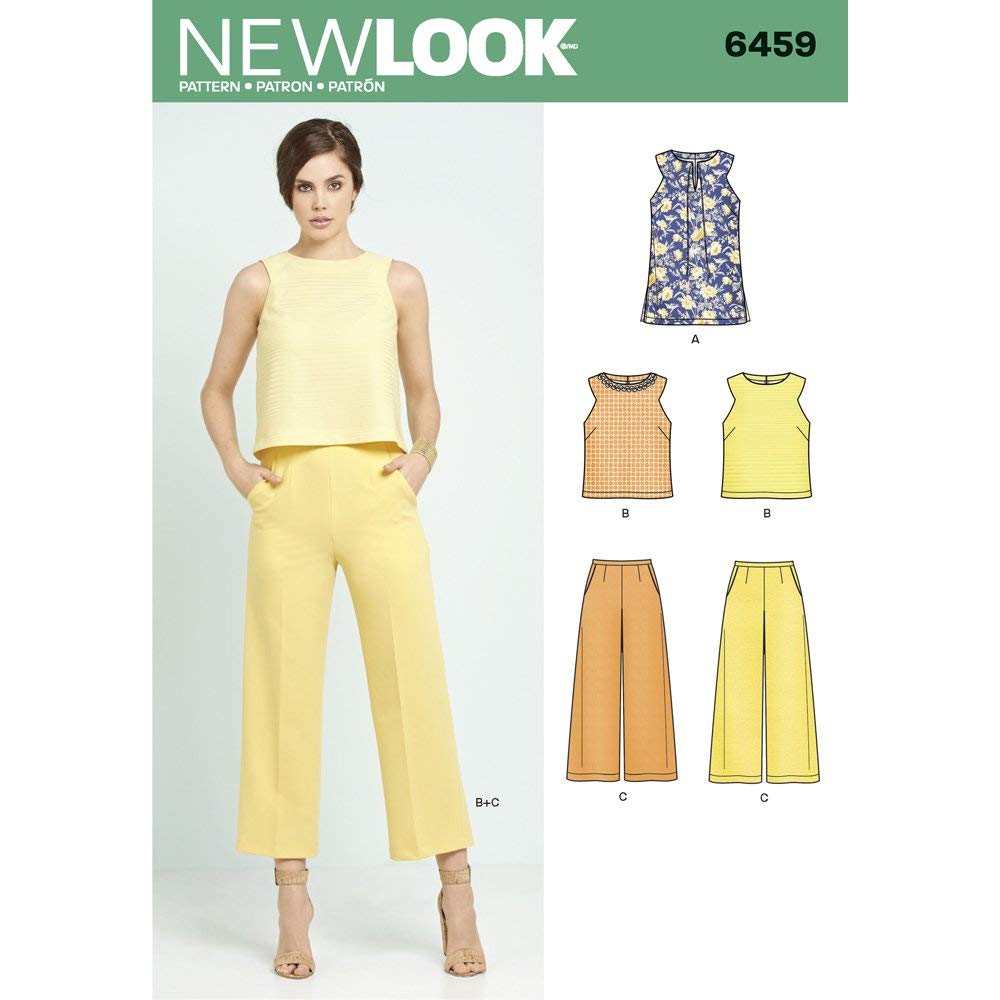 The reviews on Pattern Review mostly said the top was really cropped and that the neck and armhole facings didn't stay down. No biggie, I thought, I'll just lengthen the pattern and draft an all-in-one facing.
My alterations
Made a straight 12
Lengthened the pattern by 2″

Made an all-in-one facing using this tutorial. I attached it using this youtube video.

I have pointy shoulder blades, so I usually have to make a prominent shoulder blade adjustment to the back of woven tops (the result is a neckline dart). I use this video for the alteration.
Here's a photo of the shirt inside out so you see the facing, as well as the button/loop closure on the back. The facing is made from some left over lining.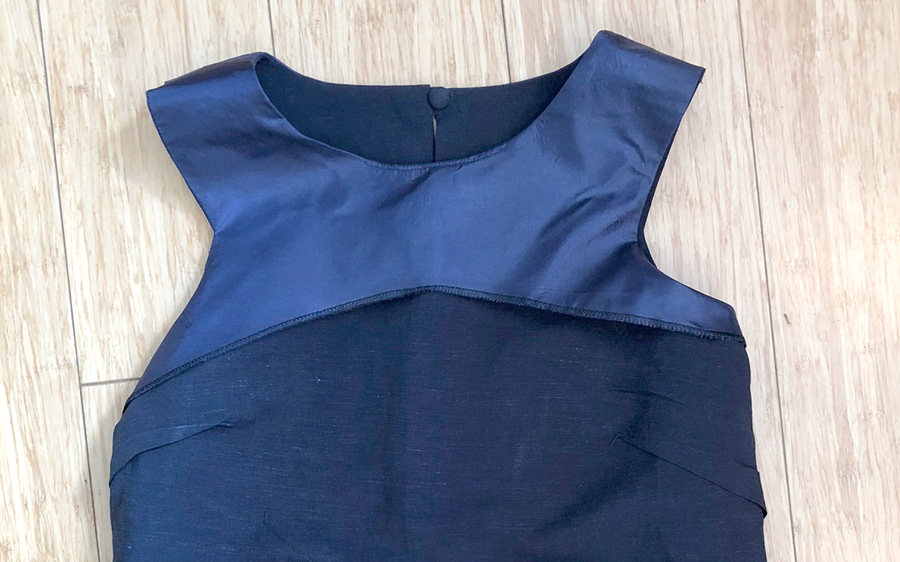 And the finished top….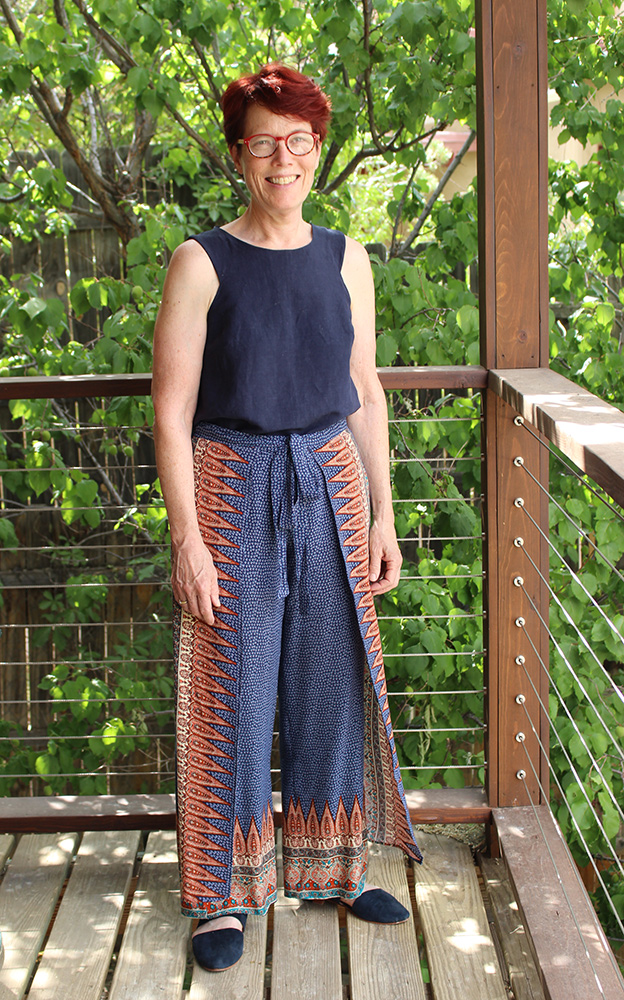 The problem that no one on Pattern Review mentioned is that the top isn't particularly bra friendly, even when I added lingerie holders, so I'm wearing a strapless bra.
But I like the neckline, and thought if I made it up in a knit rather than woven fabric it would make a good alternative to a tank top. I compared the pattern to a t-shirt pattern I've made before, and decided to size down 1 size, to account for the stretch in the knit fabric. I also made the strap a little wider and the cut-in a little less, to alleviate the bra-showing problem.
I kept almost everything else the same — the added length, the shoulder blade dart and the all-in-one facing. The woven version has a center back seam with a loop & button closure. I kept the back seam, in case I had problems with gapping at my neckline, but sewed up the entire back, removing the closure. I could get the woven version over my head without undoing the button, so figured I definitely wouldn't need it for the knit version.
Using a small piece of cotton jersey left from another project, I made up a test version. It turned out so well I made a pair of Closet Case Carolyn Pajama shorts to go with it. I made the piping at the top of the cuff on the shorts from the knit used in the top.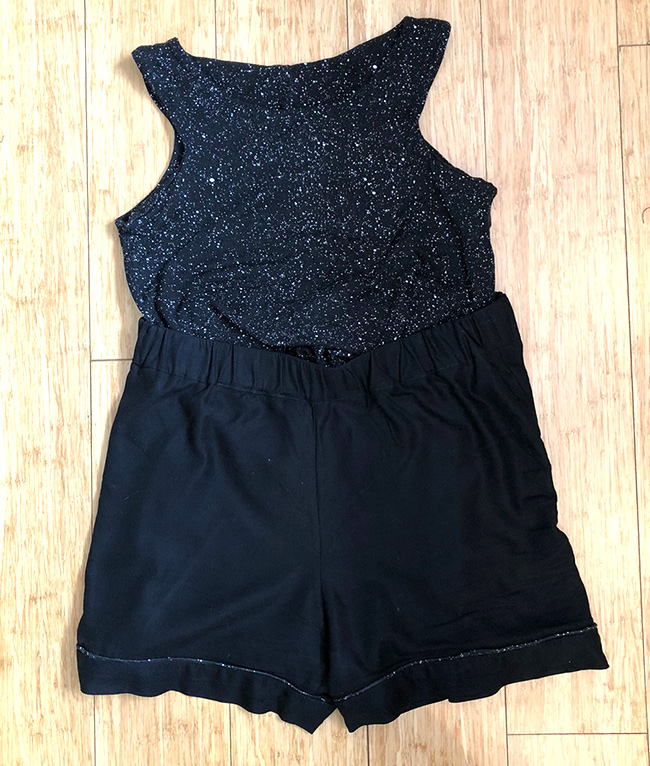 And here it is in a lighter-weight ponte (navy Ponte Leggero from Stone Mountain)