This past winter I really enjoyed planning and sewing for "the great module sew along" challenge on Instagram. The challenge was to sew a small capsule wardrobe of 3 tops, 2 bottoms and a topper in 6 weeks. You can see my plans here and the clothes I made here.
Whitney (TomKatStitchery on youtube and @tomkatstitcherycarmel on instagram) is hosting another challenge this fall, with the theme "Work from Home". You can see what others are making on Instagram with the hashtag #wfhmodulesewalong.
While the theme is perfect for the pandemic and everyone staying home, I've worked out of my house most of my career, and even though I could wear pajamas all day, I've found that I'm much happier and productive if I dress in the morning as if I'm going to meet someone for lunch or coffee. I've been trying to build a wardrobe that I can wear most of the year — sleeveless tops for summer that I can layer with a cardigan or light jacket in spring & fall. Skirts and cropped pants that I can wear either barelegged or with tights & boots. So my plans look a bit summery, even though this is autumn sewing. But I have several cardigans, jackets and scarves to coordinate with my selections that will take me, hopefully, through winter.
For the winter/spring challenge, my color palette was olive and black. For this one, I'm going to use rust and navy:
Here's my sewing plan:
Top #1: self-drafted woven tank with a tie in rust-colored rayon.
Top #2: Vogue 1027 wrap top (the pattern is for a dress, but I'm cropping it at my hip) in a cotton jersey

Top #3: Vogue 9187 in a print rayon crepe

Bottom #1: Tesutti Evie bias cut skirt in the same rust colored rayon as the first top

Bottom #2: self-drafted cropped pants/culottes in navy linen.

Topper: Vogue 7975 in a navy cotton jacquard.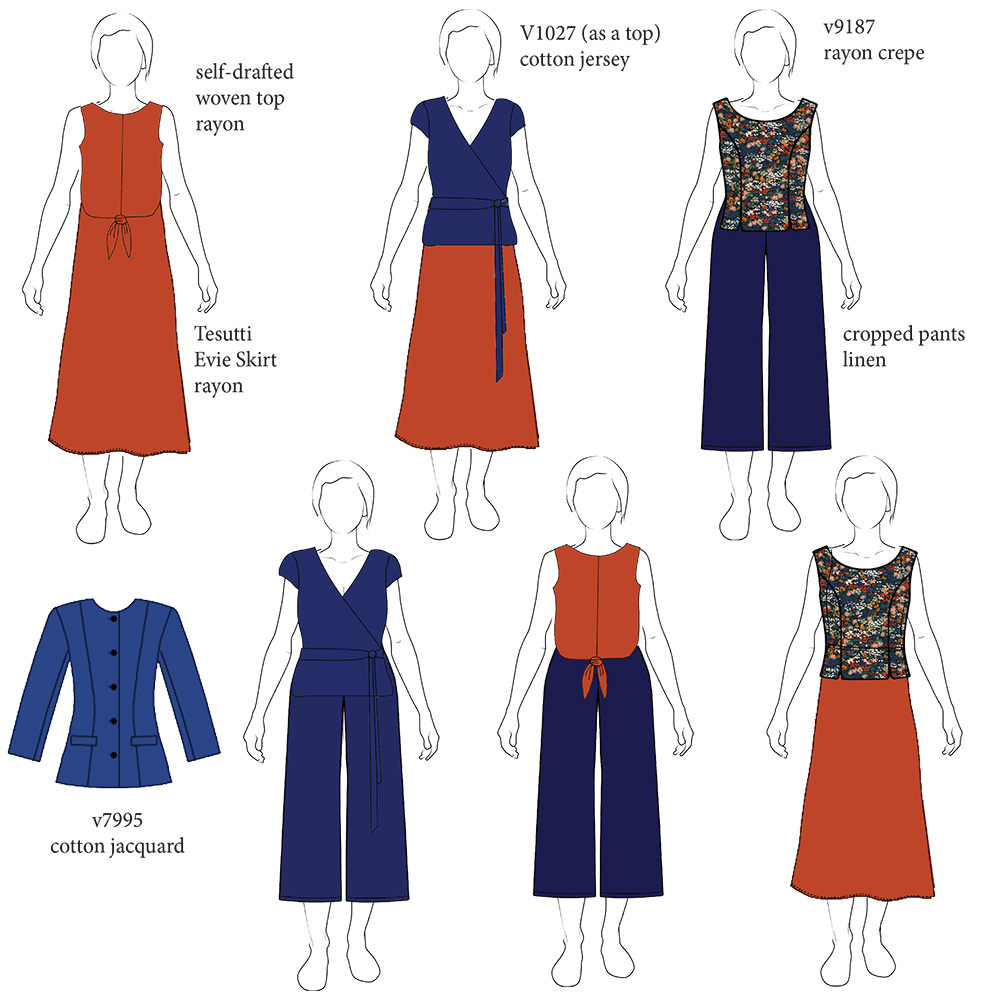 The challenge runs from Sept 1 to Oct 31, so I'll hopefully be back to report on my progress before then.
Lastly if, like me, you enjoy seeing how and what other people plan for sewing a capsule wardrobe, there's another challenge running at the same time called #mybodymodel3x3. It's a drawing challenge to design a capsule wardrobe using paper doll cut-outs of 9 garments: 3 tops, 3 bottoms and 3 layers.