One of the garments in my Fall/Winter sewing plans is a navy blouse. I was going to use a pattern I've made several times before, Vogue 8772, a fitted button-up with collar & collar stand. But when I was cleaning up my sewing space, I discovered a forgotten half-done toile for a button-up with a v-neck and one-piece (camp) collar. I tried to remember why I had abandoned it — and tried it on to see how it fit.
The pattern is described on the package as a long sleeve, princess seam shirt with straight or stylized front hem. View A: snap front closure, topstitched along front opening and neck edges. View B: pointed collar variation, buttoned cuff. View C: front button closure. View C: standing collar, flared sleeve. Here's the pattern, and my toile was for view B. ( Here are the reviews on pattern review.)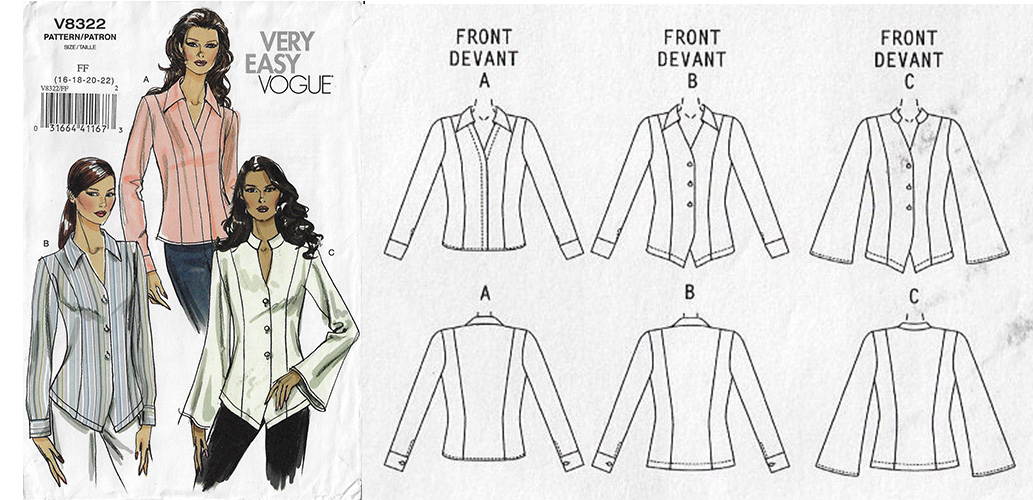 I tried on the toile and saw that although I'd cut my usual Vogue pattern size (12), the chest was much too big across the front and the shoulders were too wide. I fiddled with the princess seams until I got that sorted out, took the blouse apart and made the pattern changes.
Then I cut out the pattern in my fashion fabric — a blue silk noil. It's a pretty straight-forward sew. The collar is one piece, which is much easier than one with a collar stand, so the tricky bits were setting the sleeves and the button holes. On the front there's a facing from center front to the princess seam which is hand-sewn to the seam allowance. That might have been the hardest part, getting the sewing smooth in that area. I clipped the seam allowance and cut it down to about 1/4″, but it still has a bit of wiggle in the seam just above my bust.
My big mistake was putting the button holes on the wrong side, but I doubt anyone but me will notice.
The V is a bit low, and if I was to make the blouse again I would figure out how to raise it up and inch or so.
My husband took several pictures, but this was the only one in focus, as I tried to get my hair to stay out of my face.