I've wanted to take part in one of the many many Instagram sewing challenges that keep popping up, but don't seem to be able to find one that works with my current sewing plans. Then when the #sewOver50 organizers announced the #so50Visible challenge, I decided to make more of an effort to participate. The challenge is aimed at raising awareness and calling for pattern makers to include older models on pattern covers and in other marketing for their patterns. To participate, you post a make of a pattern that features an older model in the marketing.
I started watching the #so50Visible tag on Instgram and browsing the list that Sue Young put together of pattern companies that use older models. My criteria was to find something that was cold weather appropriate so I could wear it now, not require too much fitting, and use fabric I already had.
Eventually I found the Presto Popover Top by Naughty Bobbin Patterns. It's a knit top — so easy to fit. It's got a collar to keep my neck warm, which I like, and long sleeves. And there are quite a few positive reviews on Pattern Review. But I didn't have any appropriate fabric. Fortunately I was about to place an order at Gorgeous Fabrics and she had a knit pattern that I thought would work.
And here I am, on the left, modelling my new shirt and attempting to pose like Coco Savage, the pattern designer, on the right.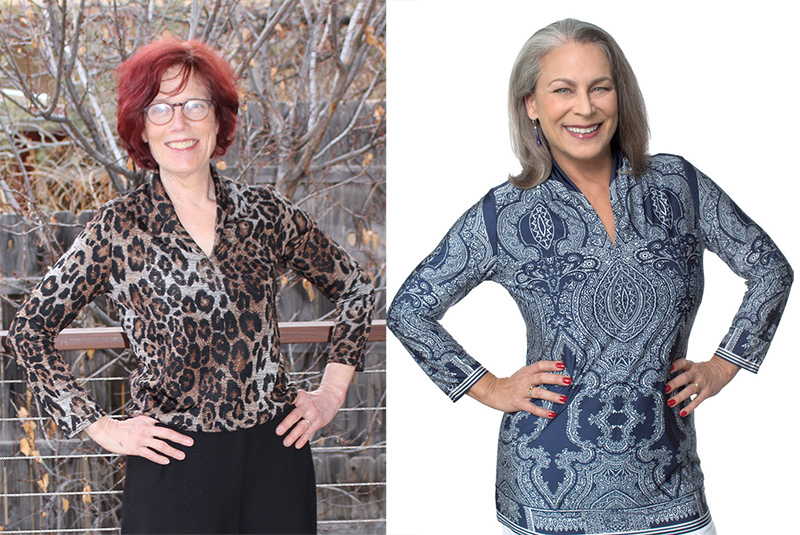 About the pattern: It's got a clever construction where you cut 2 fronts, sew them together vertically along center front, then connect this to the back using the "burrito method" to get a completely enclosed neckline. The instructions are quite minimal and there are no diagrams or pictures — so I did what I do with Burda patterns and made a doll-sized version of the pattern using scrap fabric to work out the construction. To make the doll-sized pattern, I enlarge the pattern drawings in the layout page of the PDF, cut out the fabric, and use a 1/4″ seam allowance when I sew it together.
I made a size medium, after comparing the pattern pieces to pattern pieces of a t-shirt I'd made previously. And I made 2 alterations: lengthened the sleeves by 4″ to get bracelet length, and shortened the body by 4″ as I wear shirts untucked and most of my pants and skirts are high-waisted (I'm 5'3″).
For next time, I would raise the v-neck a bit (there are 2 options for the v on the pattern, and I made the higher one).
Because the top requires 2 fronts, it uses more fabric then a conventional t-shirt. And I had to do a bit of pattern matching along center front where the 2 fronts meet.
I've worn the top 3 or 4 times already, so it's definitely a keeper. And I've been keeping my eye out for fabric to make a second one.