Here is my entry for the #thegreatmodulesewalong challenge — 6 garments (3 tops, 2 bottoms and a topper) that all coordinate.
What I made
THE OUTFITS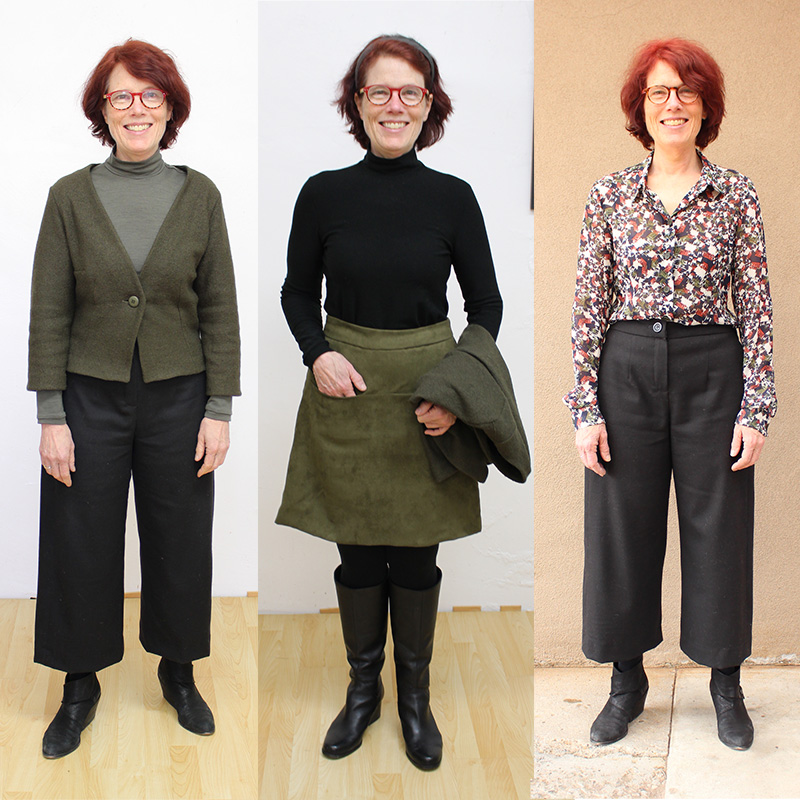 left
: Olive turtleneck, Boiled wool jacket, Black pants.
center
: Black turtleneck, suede skirt.
right
: Silk chiffon blouse, black pants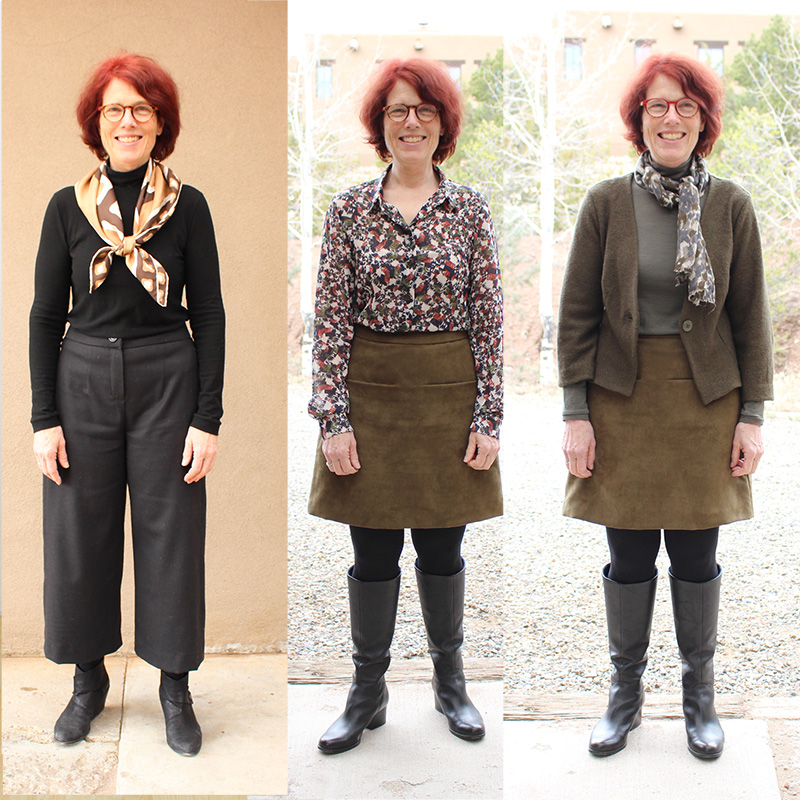 left: Black turtleneck, suede skirt. center: Silk chiffon blouse, suede skirt. right: Olive turtleneck, suede skirt, boiled wool jacket
A few comments
My biggest conundrum making this capsule was that not all olive greens go together. Actually mostly they don't. My original plan for 2 of the tops was to use a plaid button-up I already had in my closet and some striped flannel for a second button-up. But they looked really mismatched with the jacket. I decided to substitute in a black turtleneck from a wool jersey I already had in my stash. But I had to scramble to find an appropriate fabric for my third top, as I really wanted a print. I finally found something at Mood Fabric.
I've worn the jacket quite a bit. It's got a dart at the elbow, which makes the sleeves really comfortable. It's almost like a knit cardigan. It's such a success I've bought fabric to make another one.
The challenge was really fun. I didn't get side-tracked, as I have with my Fall-Winter sewing plans, because there was a dead-line as well as lots of inspiration on Instagram.
Thanks to the hosts, Whitney (TomKatStitchery on youtube and @tomkatstitcherycarmel on instagram) and Carla (Stay Stitching on youtube and @carlamayfield5 on instagram).