Since I started garment sewing in the fall of 2017, I've tried unsuccessfully to put together a seasonal sewing plan. I tried the Seamwork "Design your wardrobe" online course. I tried the yearly Make Nine challenge. I drew sketches and made lists. But in the end I couldn't decide on a list or plan, much less stick to it. Ultimately I suspect I wasn't ready to commit to a plan, as I wasn't confident of my sewing abilities. But this fall I realized I actually had a plan, I just hadn't articulated it. I looked at the fabric I bought recently and saw lots of olive green. I've been trying to make coordinating pieces that mix and match, and I noticed that the sketches I drew were of complete outfits — bottom, top, top layer and jacket/coat.
I wondered if I could combine those outfits into a plan or a mini capsule wardrobe. As someone who loves puzzles, I returned to something I'd tried before but abandoned — a wardrobe sudoku. The idea is to create a "sudoku" board of 4 rows and 4 columns with each row containing one top, bottom, accessory, and shoes to create an outfit. You end up with 10 outfits using 16 pieces (reading the rows, columns and 2 diagonals). Pattern Review had a sudoku contest and you can see what people made here. And here's an explanation of how the sudoku wardrobe works.
In fall, winter and spring, I wear a top, a cardigan, a bottom, and, on errands and my afternoon walk, a jacket or coat. I don't wear many accessories — jewelry or scarves, and my shoes are boring — sneakers when there is no snow and boots when there is. Since I'm interested in making/sewing, I decided on 4 categories I could make: top, bottom, top layer and jacket.
I knew that sewing 16 items wasn't realistic for me, plus I wanted to make the outfits work with things that are already in my closet. So I picked 8 things to make, and 8 things I had already made or bought. I also wanted to pick both patterns I've made before as well as a few I haven't, and to vary the complexity — easy knit tops and more time consuming button ups and coats. Here's the grid, and below a list of the items. The cells in the grid with the yellow-ish background are things I've already made or bought.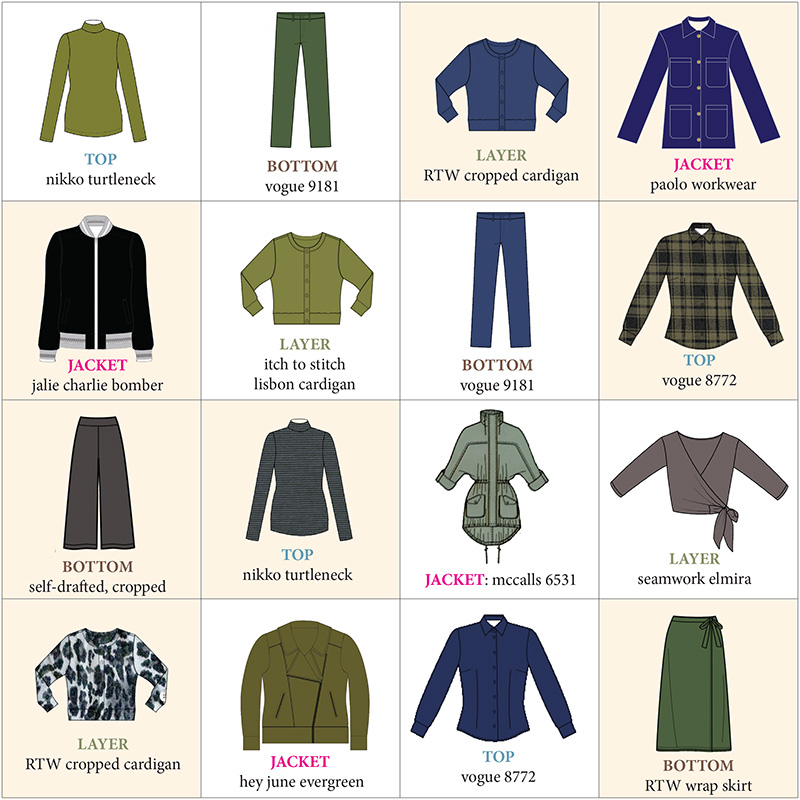 Tops:
Bottoms:
Vogue 9181 pants in olive green stretch twill: I haven't had a lot of luck fitting pants — the back on the patterns I've attempted are a mass of wrinkles. But this pattern has 3 backs — so I'm hoping the curvy one will be more successful.
Vogue 9181 pants in a stretch denim: see above.
Self-drafted cropped black culottes. I took a pants fitting class last year, and these are the results — they are comfortable and since they are cropped they stay out of the snow when I run errands!
Ready to wear midi wrap skirt in loden (dullish grey green). I really like this skirt but don't wear it enough.
Layers:
Ready to wear cropped navy cardigan.
Itch to Stitch Lisbon Cardigan in olive wool jersey. I've made this sweater before, so no fitting required, and mostly sewn on my serger (well, there are button holes!)
Seamwork Elmira wrap cardigan in black jersey. I'd like to have a few layers that aren't standard button up cardigans. This is a new pattern for me.
Ready to wear cropped animal print grey/black cardigan. I'm not sure this goes with the other things in my grid, but I don't wear this enough so thought I would give it a boost.
Jackets:
First up is the Seamwork Elmira wrap top. Do you have sewing plans for this fall/winter?