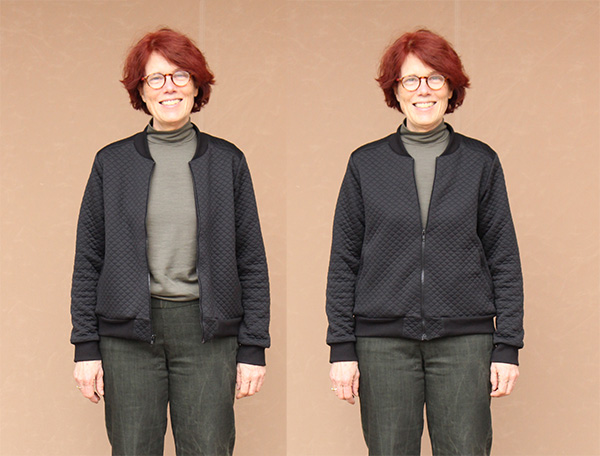 Last spring I realized I needed a light-weight jacket to wear on my daily walk. I quickly decided to make Jalie's Charlie Bomber Jacket, an unlined jacket with a zipper front, welt pockets and ribbing at the collar, cuff and waistband. The first one I made is a bit oversized and the sleeves are too long, but it's perfect for its intended purpose. This fall, I made another one out of a quilted knit (above), as part of my fall/winter sewing plans. This one is meant for colder weather — it's lined with micro-fleece. There's a close-up below.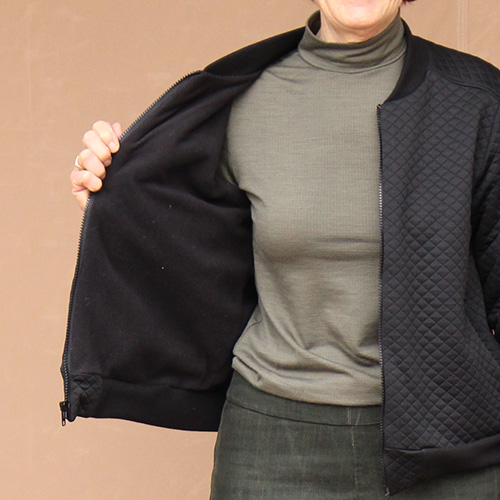 The Charlie Bomber is one of those patterns that looks more complicated that it is — I'm an "adventurous beginner" when it comes to garment sewing, and this was easy to construct, especially with their video tutorial. I'm glad I made the unlined version first — although the collar-to-zipper connection is pretty dodgy — it made the lined (& bagged) version easier to understand. There's a Jalie blog post on lining the jacket here.
My only complaint about the pattern isn't about the pattern itself or the instructions — it's about the ribbing requirement. The pattern says you need 1/3 of a yard — but ribbing (especially the striped / multicolored ones) doesn't come that way. It's sold in strips. And I discovered the strips really aren't long enough and need to be pieced (for an adult jacket). I guessed on my first ribbing order and bought 2 strips — not quite enough for the waistband, collar and cuffs — and I should have ordered 3. And you might ask, as I did, what width strip should be… you have to read the pattern to figure out it's 6 inches.
Botani seems to sell the widest variety ribbing in the US (online, anyway). But as I looked at their offerings, I was baffled about what weight and fabric composition I should get for the solid black ribbing I was after. I own a ready-to-wear jacket with ribbing that is thick, soft and seems like a natural fiber — could I find something like that? Ah the problem of living in a city that has only a JoAnn! In the end I ordered several different kinds of ribbing from Botani, and when they arrived, used this cotton one.
Some notes about the pockets. First, the welt is formed from the pocket pouch fabric. So while I would have liked the inside of the pocket to be my fleece lining, it's the not-so-cozy outer fabric. Second, while my iphone fits in the pocket, it doesn't feel very secure as the pocket isn't very deep. If I make another one, I would include an interior pocket in the lining.
I also got a very useful tip from the video tutorial. She has you baste the zipper to the jacket using a wide zig zag stitch at the edge, with part of the stitch on the fabric and a little off. I've since used this method to baste together the folded collar for a turtleneck before attaching it to the neckline. It effectively makes the collar one layer. Here's a snap from the video showing what I mean: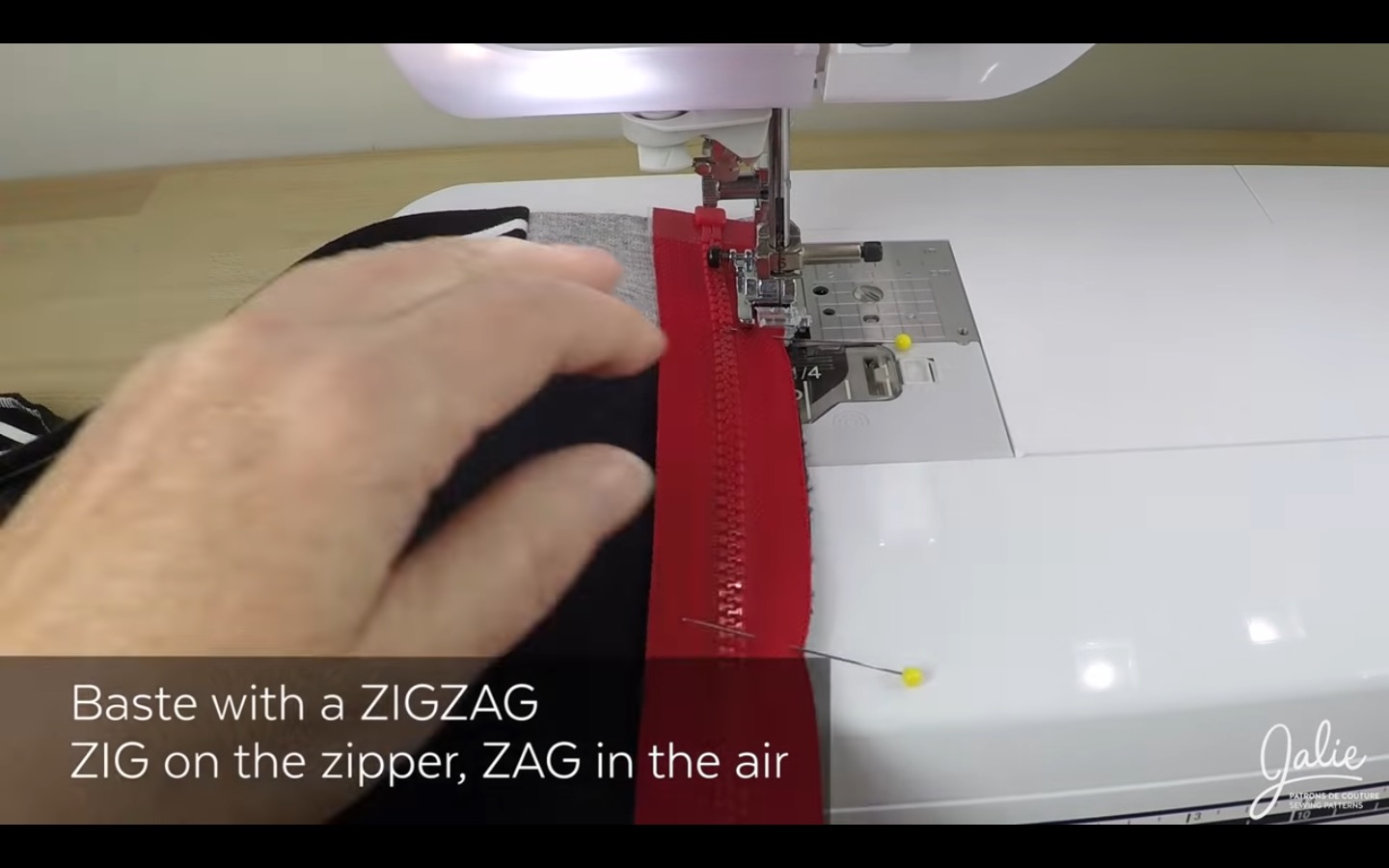 My review:
Pattern Description: Bomber jacket for stable knits or stretch woven. Zippered front. Ribbing collar, cuffs and waistband. Welt pockets with the welt forming from the pocket pouch fabric. Forward shoulder seam.
Pattern Sizing: Jalie sizing, 27 sizes included, from 2 yr toddlers to women size 22.
Did it look like the photo/drawing on the pattern envelope once you were done sewing with it? Yes.
Were the instructions easy to follow? Yes, especially with the video tutorial. This was my first welt pocket and separating zipper installation, and I didn't have any problems. I liked the new-to-me basting method for knit fabrics from the video.
What did you particularly like or dislike about the pattern? Mostly likes. I would like deeper pockets, and I thought the info about ribbing was lacking (see above).
Fabric Used: Pre-quilted black stable knit for the body, micro-fleece for the body lining, and a rayon lining with a bit of stretch for the arms. (I thought it would be hard to get my arms into the sleeves with fleece.)
Pattern alterations or any design changes you made: I added a hang loop on inside back. I took 2 inches off the body and 1-1/2″ off the sleeves.
Would you sew it again? Would you recommend it to others? Yes and yes. If I make another one I would add an inside pocket for my phone. Also, I'd change the collar from ribbing to a standing collar for added warmth. This Pattern Review review talks about how she changed the collar to do just that.