I participated in Me Made May for the first time this year. Zoe, the instigator, calls it a "challenge to improve your relationship with your handmade wardrobe." Participants make a pledge for the month of May, and mine was to wear one me-made garment every day and document them on my instagram feed. Here's what I learned, followed by snaps of each day's outfits.
 I have several ready-to-wear garments I didn't wear because I have no me-mades to pair with them. During the month I made a tee to go with my favorite skirt, and I'll be ordering fabric to make another tee for another item I wear often.
I had a big ah-ha moment: I have a pair of cropped pants that I wear a lot in the summer. I've looked without success for similar pants in other colors. But, duh, my sewing skills are good enough now that I can make my own! I've found a pattern to start with and ordered some fabric.
Taking pictures turned out to be easier and less onerous than I thought. I picked the one bare wall at our house, and used that as a backdrop every day. Probably very boring, but it's helped me evaluate my outfits and made picture taking time really easy.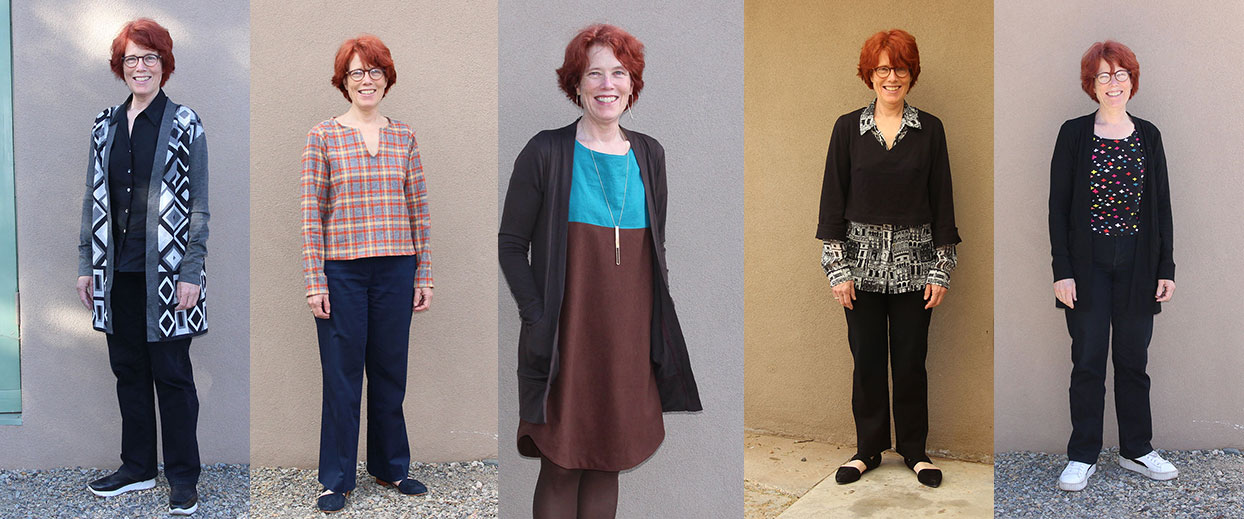 Long cardigan made using a  Hey June Tallinn pattern hack
Grainline Scout tee using sleeve and neck mods from the Grainline blog
Seamwork Georgia dress and brown Helen's Closet Blackwood cardigan
McCall's 7445 v-neck top/sweater
Scoop neck tee from a Craftsy class and black Blackwood cardigan


Navy Helen's Closet Blackwood cardigan
Brown Helen's Closet Blackwood cardigan and Grainline Scout tee
McCall's 7445 pants and v-neck sweater/top
me-made bag/pouch and refashioned button-up (altered from dress to blouse)


Michelle Patterns A-line pocket skirt
100 acts of sewing's Shirt No 1, cut up and made to approximate a Rachel Comey shirt.
100 acts of sewing's Shirt No 1 and a Pamela's Patterns Pencil Skirt
McCall's 7445 pants
Navy Helen's Closet Blackwood cardigan and Grainline Scout tee
self-drafted tank top


Michelle Patterns A-line pocket skirt
Pamela's Patterns Pencil Skirt
100 acts of sewing's Shirt No 1 and holding a black Blackwood cardigan
Color-blocked Marilla Walker Maya top and McCall's 7445 pants
Brown Helen's Closet Blackwood cardigan and Grainline Scout tee
Black Helen's Closet Blackwood cardigan and color-blocked Marilla Walker Maya top


Black Helen's Closet Blackwood cardigan
Navy Helen's Closet Blackwood cardigan and Grainline Studio hemlock tee
Color-blocked Marilla Walker Maya top
Grainline Studio hemlock tee
100 acts of sewing's Shirt No 1
Michelle Patterns A-line pocket skirt
Grainline Studio hemlock tee and McCall's 7445 pants