My husband has a much-loved merino under-layer he wears when he bikes in the winter. When I noticed Gorgeous Fabrics had some black merino jersey on sale, I snapped it up to make him a birthday present.
I thought a raglan top would be more interesting than a straight long-sleeve tee. Dawn, who blogs at Two On Two Off, has had a lot of luck with Jalie patterns, so I settled on Jalie's Nico.
After some measuring, I decided to make a size V, basically a men's medium, which is what my husband wears in ready-to-wear shirts. Right off I made 1 alteration to the pattern — the seam allowance is 1/4″ and I have a lot of trouble with my walking foot on my Janome catching such a small seam allowance. So I increased it to 3/8″. I had 2 left-overs in my stash — a black jersey and a bike print — so I used those to try out the pattern. In her Craftsy class Sewing With Knits, Meg McElwee recommends stabilizing the neckline, back shoulder seams, and using fusible tricot tape on the hem before sewing it. I used these 3 tapes from Emma Seabooke: fusible tricot for the hem, woven stay tape for the shoulders, and knit stay tape for the neckline.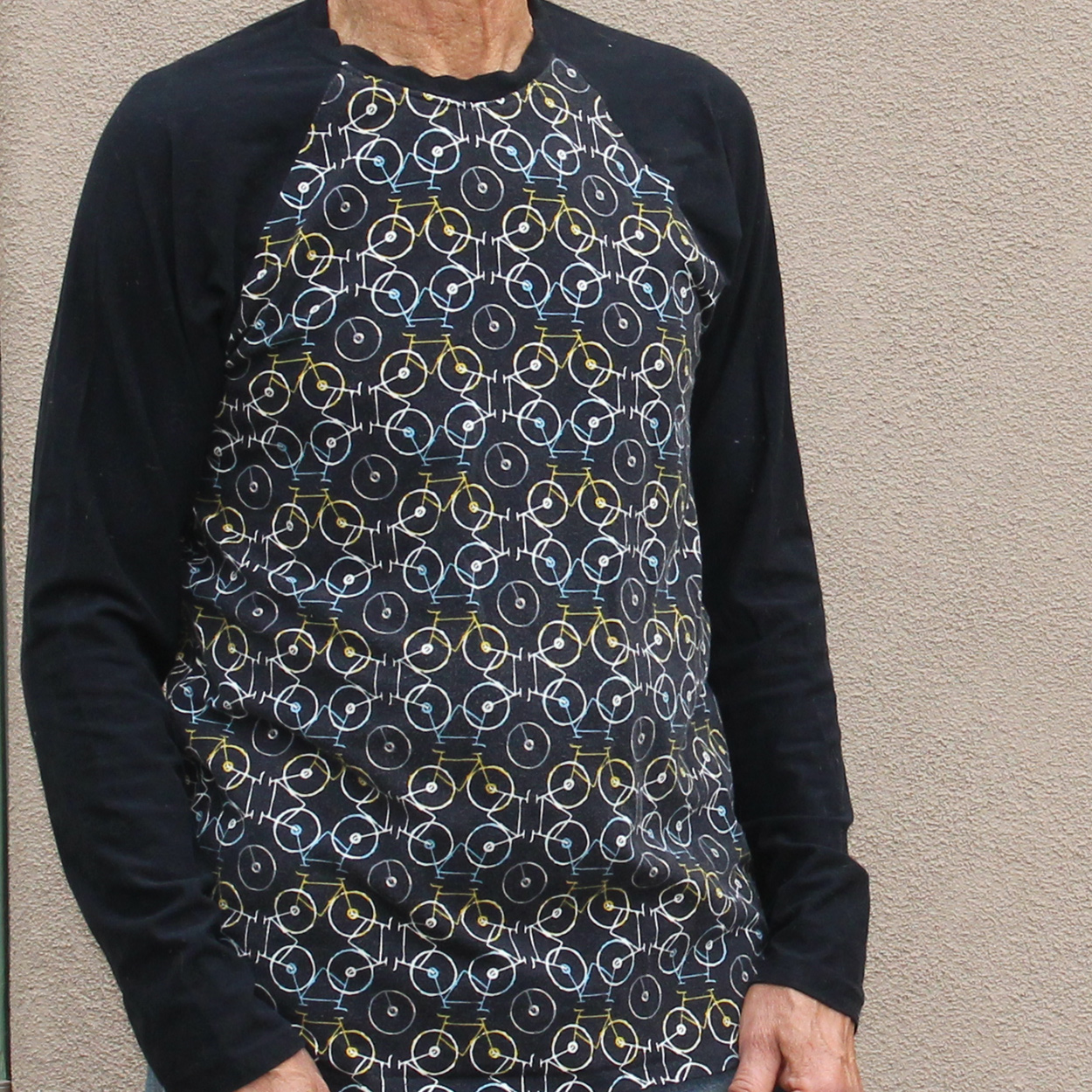 The arms and torso fit fine. But the neckband was too big for the drafted neckline, and the neckline was too small for my husband's head (a bit of tugging required to get it on). I made this one up during the winter, and despite the neckline issue, he wore it as lounge-wear in the evenings until it got too hot to wear sleeves.
For my second attempt, I used the same Art Gallery black jersey for the sleeves as the first one and an Art Gallery grey jersey for the body (both from Hawthorne Threads). I took 1/8″ off the neckline and left the neckband the same. This was a much better fit about the neck. And the fabric is really soft and my husband has worn this one a lot. I also tried a twin needle on the hem for the first time. I was afraid I wouldn't be able to get the needles threaded, but it wasn't too hard when I used the head-mount magnifier that my husband bought me for just this problem!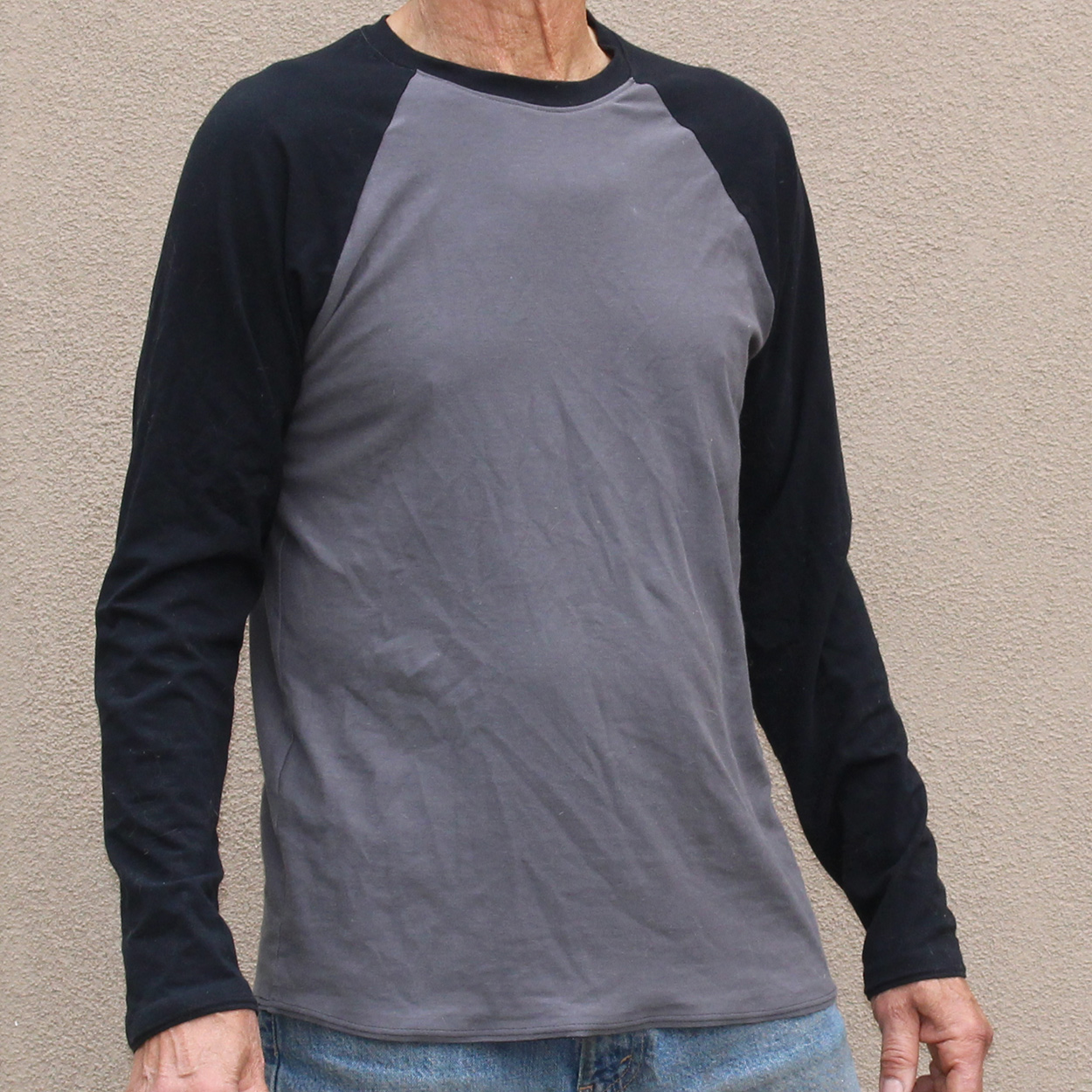 Now I was ready to make the merino version. It went together really quickly and I was excited to give it to my husband.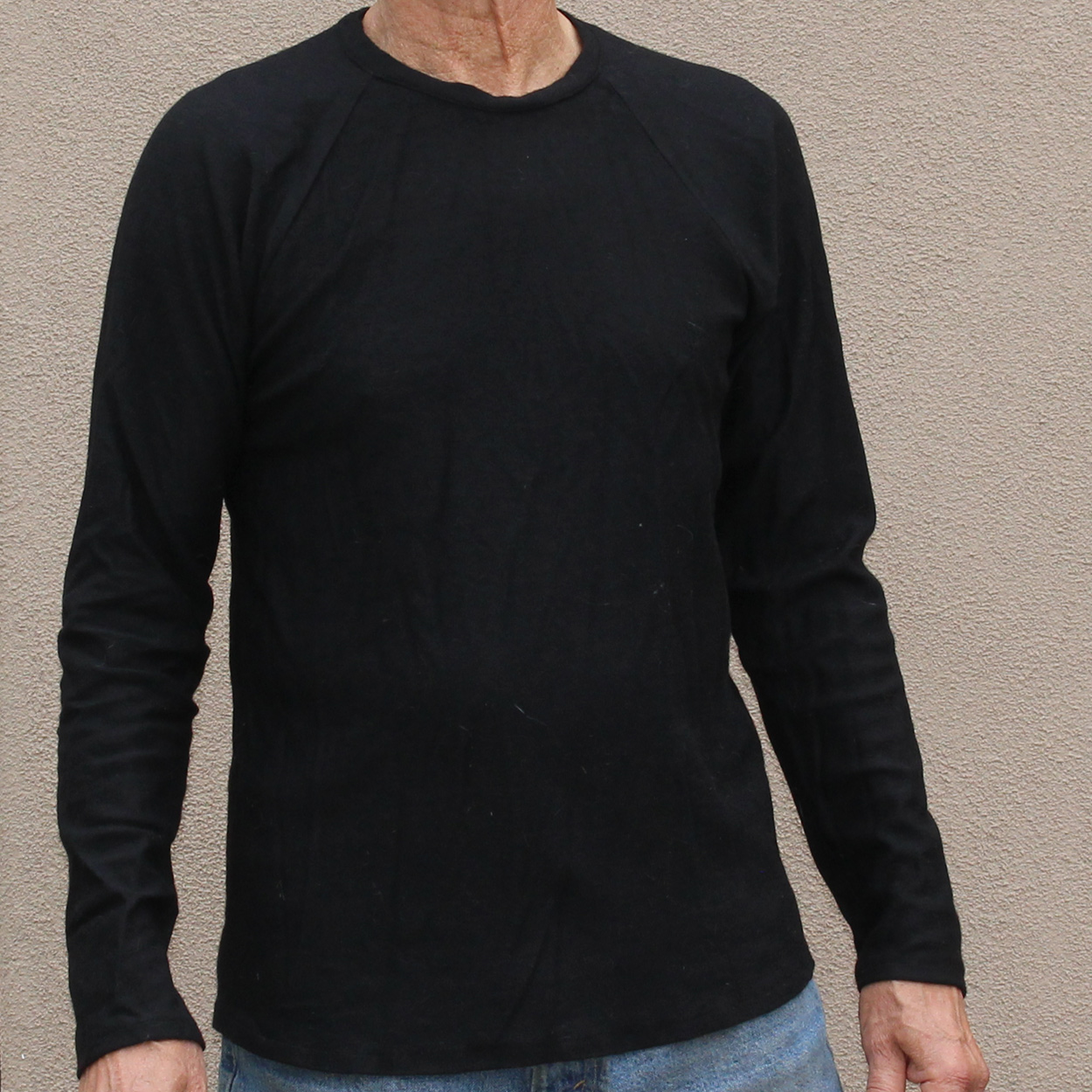 Sadly, he finds the fabric really itchy, and by the time I had it finished, it was too warm to wear. So I'll have to wait until winter to see if the itch goes away or he'll have to wear a tee underneath. But the pattern is a winner, and I've got plans to make a few more.